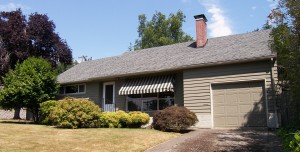 In the late 70′s, Bart bought his first home – his bachelor pad. He then immediately went out and bought a dog. The washer & dryer was an afterthought.
In the early 90′s we married and lived in the house for a few years and then found our first home together and the house on the corner became a rental property.
Over the years we've thought about expanding the house as it sits on a large corner park-like lot and there is lots of room to build up and/or out. Plus there is a distant view that from an upstairs that would be pretty cool.
We've been landlords for about 20 years now and have had the privilege of having some really good tenants who most are still considered very good friends. Our first tenants were a bunch of single male law students who didn't like housekeeping so that was a tough lesson. Our second tenants were three high maintenance college women who didn't know how to change a lightbulb. Our third tenants were a husband and wife who had filed for bankruptcy and wanted to get back on their feet again. We were thrilled for them when they pulled it all together once again but still sad to see them go.
We've had friends rent from us and we've had strangers who then became friends. Another benefit to me was that I was helped quite a few tenants buy their first home when they were financially ready. Because of this little house, we've owned commercial property, multi-family properties, and our dream 1915 hunting lodge style home on 62nd Place.
So while we've put the house on the market a few times and then backed out, this time we'll see it through. We're pretty ensconced in Ventura and have decided it's a better move to have a rental here instead of up there.
So if you or someone you know is looking for a house that is ready for a new set of family and friend memories, here's the perfect place to call home.
5910 SW 46th Ave, Portland OR 99221
$330,000
{ Comments on this entry are closed }