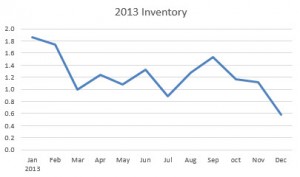 2013 Pace of Ventura Sales
Last year it was easy to see that the inventory of homes was very low during 2013 and got skinnier as the year continued. You could almost feel it in the air.
The beginning of the year looked very hopeful for buyers coming into the market. For every home sold, two homes were coming on line. This meant there was certainly inventory to choose from. By December, the ratio showed only 1/2 a house coming on the market for every sale! Very little choices and sellers were really controlling the market as prices started increasing. It was a crazy time with many multiple offer situations and very short Days on Market. For buyers, pickings were slim for sure. For sellers, they were finally seeing an increase in equity because of rising home prices.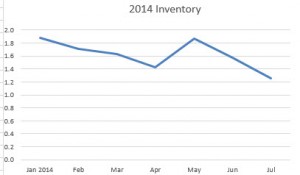 2014 Pace of Ventura Sales
2014 so far has been pretty much a repeat of last year. While May showed a promising uptick in inventory, June mirrored last year's ratio of one house sold to one house coming on the market.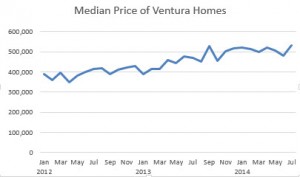 What does that mean really?
The median price of homes in Ventura is on the rise – as it has been for quite a few years.  In 2010 I listed a three bedroom, two bathroom handyman special for $360,000. That same house I would put on the market for no less than $$460,000. Imagine if you had bought that house and did the remodel? That same house could rent today for $2800 a month.
If you are in the market to purchase a home, give me a call and let's talk about all the benefits of homeownership. We'll also discuss your "exit strategy" options that address building wealth in real estate.
If you are in the market to sell your home, give me a call and let's talk about your next step. Moving up? Moving on? Moving over? I know all the techniques of getting top dollar.
If you are just curious as to what your home is worth, give me a call and let's discuss selling or holding on to your investment. As a landlord for over 20 years and having purchased many homes, many ways, over the years – with equity, as a 1031 exchange and with savings – I can give you many options to consider!
Not only is real estate a good investment, it can be your retirement income as well. I'll show you how!
{ Comments on this entry are closed }