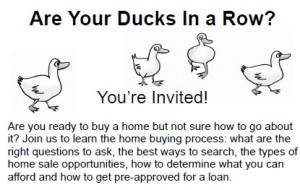 Here's a quote from a recent (very happy) student:
"The RE/MAX first time home buyer seminar was the first step that we took as first time home buyers. The seminar gave us a better understanding of the home purchase process and the benefits of being a homeowner.  It gave us access to helpful online information, with up to date details.  And we gained the confidence to move forward in the market place."
Are you ready to buy a home but not sure how to go about it? Join me to learn the home buying process, how to choose the right people to help you purchase the right home, and how to get pre-approved for a loan.
Thursday May 16th @ 6:30
First-Time Home Buyer Class
5720 Ralston St, Suite 100 / Ventura, CA 93003
The class is very interesting and a good start for someone either wanting to begin, or only considering, buying a home.
Let me help you establish roots!
{ Comments on this entry are closed }