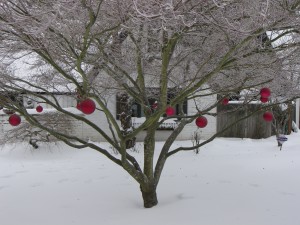 It's the most wonderful time of the year: Time to pick out the tree and haul ornament-filled boxes from the attic. But, the next open house you have won't be for your dear friends — it will be for potential buyers. Stay festive without crossing the line with these Frontdoor.com tips.
Your yard and front door provide a sneak preview of the warm and inviting atmosphere inside. Showcase winter's beauty with a pinecone wreath on your door, and excite prospective buyers by hanging some simple lights outside.
Inside, appeal to guests' senses. Draw back the curtains to allow natural light, and add more lamps for a softer light that also fights the darkness of the season. Keep the house toasty by lighting the fireplace or switching on the heater. In the bathrooms, add seasonal scented soap, and in the kitchen, let the aromas of freshly baked cookies or hot cider circulate.
Keep the religious décor to a minimum to avoid scaring off buyers. Consider a scaled-back Christmas tree or Hanukkah menorah in the corner, gifts tucked tidily around. After all, it's still a holiday.
Please feel free to call me to learn more about the home selling process! (805) 339-3591.
{ Comments on this entry are closed }