Do & See
Fireplace Design Center
This fireplace shop in Thousand Oaks has some very, very cool fake food displayed on their counters, BBQs and table tops. But besides that, they are incredibly helpful when it comes to designing a fireplace for your home! Thousand Oaks Fireside & Design is located at 104 E Thousand Oaks Blvd and their number is (805) 496-6660. They also sell mailboxes and weathervanes!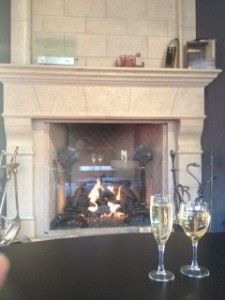 Mid-Century Modern Palm Springs Motel
Live like the Rat Pack as you partake in poolside Orbitinis!  Backstroke in the sparkling pool, splash around in the private spa, spin vinyl records and borrow bikes for a quick jaunt downtown.  This hotel will bring a smile as even the little details showcase a time gone by. This is mid-century at its best. The Orbit In has sister hotels that you'll want to visit also!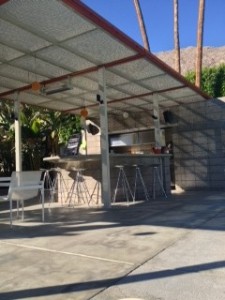 Relax with the Stars
Spend the day being pampered like royalty, having cocktails in the spectacular dining room or poolside cafe, enjoy a wonderful assortment of treatments, take a few yoga classes, workout and walk the cliffs of Santa Barbara.  Book an evening, a weekend or a few days. It will be a memory of a lifetime! Visit or call Santa Barbara's Bacara Resort at 8301 Hollister Avenue (805) 968-0100.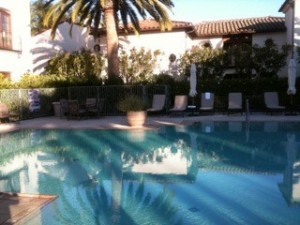 Forever Marilyn
Standing 26 feet tall, Marilyn steps out of "The Seven Year Itch" in her famous stance. Sit across the street at the loca starbucks and watch what people take photos of and where they look after finished with their photos! She'll be on display through June 2013.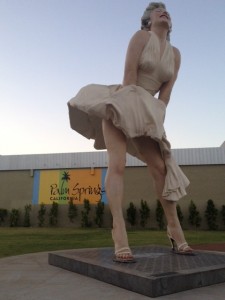 Waterfalls and Quiet Peacefulness
For a long time, I kept driving right past the interesting looking building in Summerland. Not really a sign on the place, a spacious parking area, a large umbrella, stone pots and things scattered nicely about, and an amazing front door. So, one day I stopped the car and walked right in. A Sacred Place. Such a wonderful place inside! Stop in next time you have time and sit for a spell with a cup of tea, do a little shopping. You'll go home with a big smile on your face. Located at 2594 Lillie Ave, Summerland (Santa Barbara). Open 11-5 everyday.
Orchids as Far as the Eye can See!
The most difficult part of visiting Westerly Orchids is picking the best plant. Just when you think you know which one you want, you walk further down the isle and pick out another. Then, it happens again and again and before you know it, you've purchased a whole slew of them. But no worries, the prices are pretty nice too.  Take the Santa Claus exit off Hwy 101. They are open  8:00 am and 5:00 pm Monday through Friday and 10:00 am to 3:00 pm Saturdays.
Fly Away!
Stop by any one of the many small airports in Ventura County and check out the beautiful planes!  The Santa Paula Airport has a nice restaurant where you can have an ice tea and watch the planes take off and land.  The first Sunday of every month is the best time to visit this airport for an up close look at all the planes! (Potlucks are common here on Fridays too.) On Fridays, visit the Camarillo Airport for the "$300 hamburger"! The Santa Barbara Airport has been updated recently and is really beautiful! (Plus, they recently started up again the direct flights to Portland! Go Ducks!)
Ride 'em Cowboy
Saddle Up Riding School, located in Aliso Canyon on thousands of acres is an amazing place to learn how to ride and care for horses. Instructor Jennifer Nielson is an amazingly patient woman with a heart of gold who knows her stuff.  Take an evaluation lesson and then sign up for monthly classes.
The Ultimate Ventura View
On a clear day, hike on up to the "V" and soak in the most amazing view in So Cal! It's worth the sweat!
Doggone Fun Day
Come and check out the Winterfest All Breed Dog Show at the Ventura Fairgrounds. It is a great way to spend a day checking out all the breeds you know and have never heard of before! It is also a terrific opportunity to talk to dog owners and learn more about behaviours and needs of specific breeds so when you adopt or buy a dog of your own, you'll choose the best fit for your family and lifestyle.
Spa Day at its Finest
You won't want to miss this! The Santa Barbara Bacara Resort is the ultimate in Spa Day-cation! Start out with a beach/cliff hike, then work out in the spacious exercise room, take a yoga class, then relax in the steam room, the sauna and the whirlpool. After a heavenly facial and a glorious massage, hang by the glistening pool.  Have lunch in the Bistro or cocktails in the gorgeous bar/restaurant.
Beatrice Wood Was Here
Visit our most famous resident! It's a love story, an art story, a time of break throughs in glazing pottery like never seen before. Visit the Beatrice Wood Studio in Ojai and step back in time and learn the story of Beatrice and the people she knew, who she inspired and those that inspired her.
Now I want to mosaic everything in my path
You'll need some stepping stones! Taking a basic mosaic class  was really fun. It was a two day course with the first day glueing the design and grouting on the second day. Tami does consignment work and is extremely talented and experienced. She does classes in table tops, dog portraits, garden globes and more. Check out the photos and the class schedule at the Santa Barbara School of Mosaic Art!
Art from Scrap
This shop in Santa Barbara is an crafter's dream come true! You have to see it to believe it. I love the mission statement: Promoting a greater understanding of environmental issues and encouraging creative expression in the arts. Visit the reuse store and help save our planet. They have classes too!  They are located at 302 E Cota Street.
Eye Lash Tinting
You'll need to get your movie star on!!! As a redheaded female, it is easy to look like Opie from Mayberry RFD after getting out of a pool. Having dark eyelashes can make all the difference in the world. Good technicians are very hard to find and I have found one of the best in our area! Jeanine Guerra, the owner of Crimson Day Spa in Santa Barbara is who you need to see! She'll even give you a facial at the same time. Be sure and tell her hi for me when you go! She is located at 31 Parker Way and her number is (805) 563-7546.
Full Service at Firestone
Here's where to go to get pumped up! New tires or in need of air… Visit your local Ventura Firestone Tire dealer at 200 South California Street. (805) 643-6101. You'll find a very knowledgeable and helpful group of people to help you!
Get Your Fishing Gear Here!
Here's where to go to get the scoop on the local fishing haunts! Eric's Tackle Shop is part museum, part tackle shop, part sports TV hangout. For all your fishing needs or a fun browse, stop on by at 2127 E. Thompson Blvd, Ventura. (805) 648-5665. Keep those lines tight and subscribe to Eric's blog.
Trampoline Aerobics
Exercising has never been easier! Just $11 and you can bounce for an hour. Remember the ol' seat drop? Try doing 25 in a row! A perfect evening for the whole family plus you can rent space for birthday parties and/or take the evening and Saturday morning aerobics classes. Visit Sky High Sports in Camarillo at 166 N Aviador St. (There are more locations in California, Oregon & Washington.)
Vacuum Fixer To the Rescue
Who doesn't need great customer service for something so annoying – when your vacuum breaks. Here's your man, Matt, at All-Vac. Customer service that no longer exists today – from a new purchase to a repair!  Located at 3619 Telegraph Rd, Ventura 93003 (805) 642-9559.
Go By Train
When is the last time you rode a train? How about overnight? Rent a roomette, a family room or a bedroom and enjoy a leisure 28 hour ride from Oxnard to Portland. Breakfast, lunch, and dinner are included. There's even WiFi and a movie theatre.  (Don't forget to use your AAA discount!)
Quintessential  Surf Inspired Handmade Jewelry
You want to know what the definition of "beach-hip-surf-inspired-artisan-jewelry-and-accessories is"? Look no further. It is a run, don't walk to BettyBelts shop in Ventura at 12 North Fir. Even if you don't surf, you will appreciate the quality and aesthetic beach chic! Donna is the Owner/Designer and a passionate surfer.  BettyBelts is also part of the 1% Back For The Planet. Visit Donna's website to meet her designers and see their incredible surfing photos!
Enhance Your Natural Beauty
Danielle is an artist with lashes. She uses the Novalash product for individual butterfly light lashes.  She is an expert at application and very talented. The lashes are perfect for special occasions, however, the lashes are long-lasting so you'll want them on year-round. The added bonus is that Danielle is a sweetheart and fun to chat with during your appointments! (Or if you prefer to rest, her rooms are very comfortable, relaxing and quiet.) Visit StudioLash at 586 Poli St, Venutra. Call (805) 643-5274 for an appointment.
Ventura County Fair
It's time for the Ventura fair! Enjoy fast, fun and/or scary rides, chocolate covered bacon, giant slides, mutton riding, aquarium exhibits, bungee jumping, big & little animals, Vitamix demonstrations and much, much more.
Roller Derby
Ventura boasts its own roller derby team, the Derby Darlins. Catch this fast action sport and cheer our ladies on!
Magic Mountain
Magic Mountain has some of the fastest, tallest, wildest, gut-wrenchingest rides in the country-including a few record-breakers. The long lines are worth the wait!